Construction of 200 Two Bed Room Flats in Sector 51-A
The Chandigarh Housing Board launched the General Self Financing Housing Scheme for 200 Two bed room flats at Sector 51-A, Chandigarh. The Scheme opened on 01.04.2016 and closed on 23.05.2016. Tender for Construction of 200 Flats has been awarded with date of commencement as 11.12.2017 with a time period of 18 months. The completion of the flats is taking time due to non shifting of HT line by the Chandigarh Electricity Department. The work is likely to be completed by December 2019.
Construction of Block 'B' in CHB Office Complex, Sector-9, Chandigarh as Intelligent & Green Building
CHB has taken up the work of construction of Block 'B' Office Building at Sector 9, Chandigarh as Intelligent & Green Building. The foundation stone for the project was laid by Hon'ble Governor Punjab & Administrator UT Chandigarh on 12.11.2018. CHB allotted the composite work to the contracting agency for an amount of Rs.49.517 Crore (excluding furniture & furnishing). The work for construction of seven storey Block 'B' with double basement has been allotted for a time span of 24 months with date of commencement as 28.11.2018.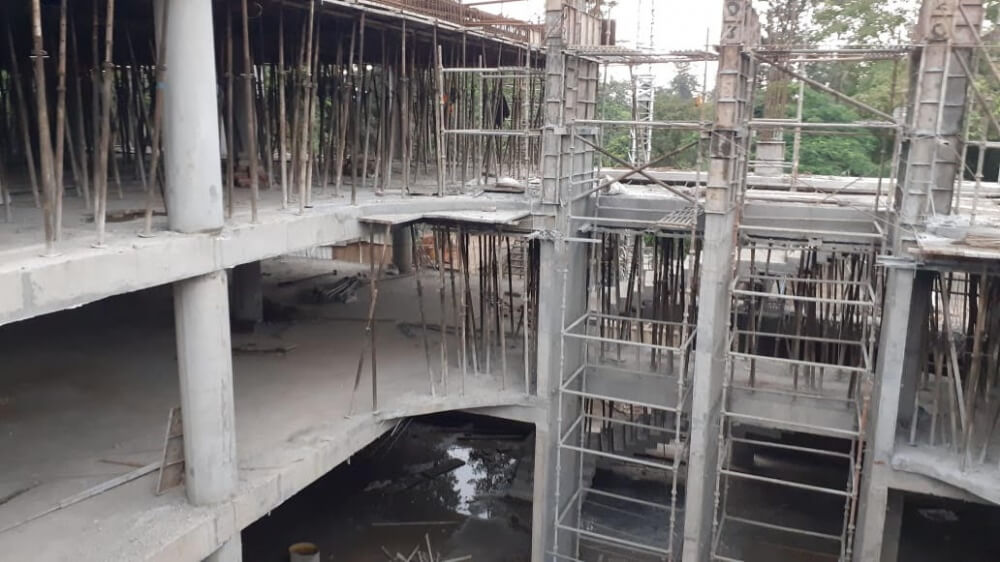 Actual Site photograph on dated 26.11.2019.
The Block 'B' Building will be an Intelligent & Green Building. CHB is targeting IGBC gold rating for the block by initiating various measures to save energy, water, reduced waste and to create sustainable built environment. Following features has been included in the design specifications:-
1. Efficient water flow fixtures with flow restrictors/low flow fixture selection (Potable water savings of around 30%).
2. On-site STP for 100% waste water treatment and reusing the STP treated water for flushing, irrigation to further reduce the potable water demand.
3. On-site rain water harvesting to recharge the ground water.
4. Energy saving of around 20% with various energy efficient measures.
5. On-site SPV 50 KWp to reduce grid demand.
6. Integration of all Energy and water metering system to BMS for central monitoring and control.
7. Social concern- supporting facilities for differently abled persons (Reserved toilets, ramps with handrail, lift considered with Braille and audio assistance etc.)
8. Occupant's health & well being facilities within the building.
9. Provision of fresh air in all spaces for better indoor air quality and to avoid sick building syndrome.
CHB had earlier completed the construction of Two Single Storied Office Blocks – Block 'A' & Block 'C' in the year 1983 and 1993 respectively.